TRX Recording Agent ™
The Next Generation in Deposition Reporting….
— an industry-first, certified deposition service available exclusively from TheRecordXchange (TRX). The TRX Recording Agent service is a revolutionary way for litigators to lower overall deposition costs and make "go/no-go" litigation decisions sooner than possible using older, traditional methods used to capture deposition proceedings.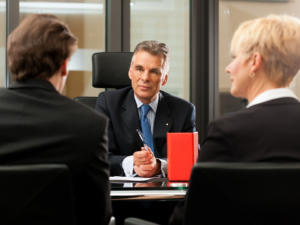 TRX created the new Recording Agent (RA) role…
which consists of a TRX-certified independent business professional who appears at depositions at the noticing attorney's pre-scheduled date/time/venue with a small, newly-developed, self-contained digital recording system. The RA sets the compact recording unit up including two mics in under ten minutes, and then manages the deposition proceeding from the perspective of insuring that the highest quality recording of the event is captured, along with the necessary swearing-in of witnesses and expert handling of exhibits. RAs are state-registered Notary Publics with years of experience. They also complete a TRX-certified training program which includes "best-practice" and rules of legal deposition procedure along with meeting federal and state court recording standards to insure the highest quality recording.

Once a deposition is completed…
usually the same day, unlike with traditional court reporting the RA uploads the content and then TRX VoiceCopy™ is made available to litigants from the original deposition order. VoiceCopy™ consists 1) of a copy of the recorded audio of the deposition along with 2) AI-generated text of the words spoken synced to the audio. And the audio and text can be shared with others on the litigation team. Learn more about VoiceCopy™ in the next blog.
Notable is that the audio and text are included as part of the Recording Agent service which is commensurate with the cost of appearance fees alone of traditional court reporting services. And if at any time litigants determine that they are still going to need a certified transcript of the deposition, one can be ordered from an independent Legal Transcription professional through TheRecordXchange at the click of a button at no more cost than what it would cost through traditional court reporting.
Now, for the first time litigators can have both audio and text available to them purposed for review in rapid turnaround.
Having the ability to perform a full deposition review and generate a comprehensive deposition summary using these resources gives litigators the ability to determine their go/no-go litigation strategy much quicker while reducing the number of certified transcripts they might otherwise order, resulting in literally thousands of dollars saved.
Check out a brief video of the TRX Recording Agent service and VoiceCopy HERE.